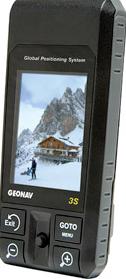 The new GPS GEONAV is able to guide you from the deepest ocean to mountain peaks. Unique, Geonav 3 is at the same time a marine and road navigator and an outdoor skiing. Thanks to the exclusive Navionics Outdoor cartography you can skip without interruption from nowdays traditional marine navigation, to the visualization of the Alps; you can check the access points to the ski lifts, see the points of interest along the ski areas (refuges, restaurants, ticket offices, with geotagged photos), slopes and ski areas (name, difficulty), plants (name, type), and then review, measure and evaluate all the data concerning the route you've done.
You can also use Geonav 3 as a powerful marine navigator (with Navionics Platinum you can visualize photos of ports, air photos of the coast and on 3D) and also in the car.
It is now available in two versions: GEONAV 3 and GEONAV 3S, the second provides a magnetic compass and barometric functions.
The exceptional trans reflective TFT display of 2.2 inches and 240X320 pixels has the best resolution of the segment. It has a rechargeable lithium battery with a 9-hour range.
Package Contents:
Carta Land & Sea – Accessories – Manual – Kit Car accessories

PRICE SALE IN PROMO EURO 390,00.